I forget My Password !!!! How do I remember all of my passwords?
For that matter, there is an open source software that helps users to remember their passwords. Additionally, it also helps to store website login passwords, e-mail account, FTP account and Softwarre registration code. So, Efficient Password Manager is the software that I want to recommend you.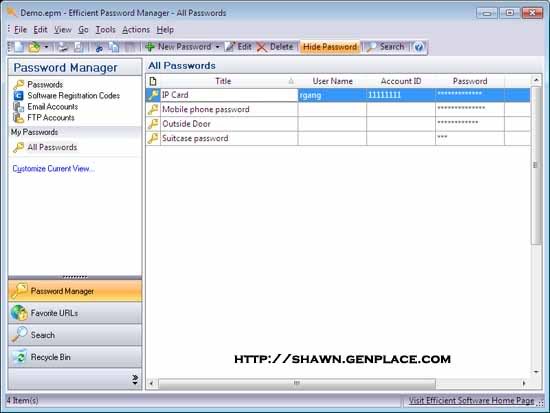 In brief, the interface looks fine and there are 8 different interface styles options. In term of safety measurement, the irreversible SHA algorithm encrypts the main login password (Highly protected). Therefore, not to worry too much.
Accordingly, Efficient Password Manager is …
1. Free !
(Compatible with Windows 7)
2. Multiple Interface Styles
(Various tones of color like blue, green or metallic)
3. Portable Edition Available
(Just run from your USB flash drive)
4. Easy to Search
(Capabilities for you to search your information)
5. Powerful Document Editor
(Embedded a document editor that comparable to MS-Word, which you can be write your notes for passwords)
6. Information Safety Safeguards
(Recycle Bin available inside + Backup and Restore Function, All passwords are in encrypted format)
Links
Download Link: Click Here to Download
password : shawn.genplace.com
Website:efficientpasswordmanager.com