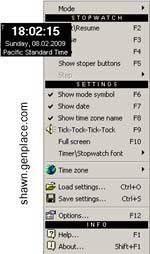 Software : Tik-Tak 1.0

Language: english
License: freeware
System: NT/98/Me/2000/XP/2003/Vista
File size:776.4 KB
Tik-Tak is a tiny time management tool that features a timer or stopwatch. This tool could present current time, internet time (BMT, Swatch time), universal coordinated time (UTC) and time elapsed since the system was in progress.
The time is showed for the current time zone, one of the predefined time zones or custom, defined by user, time zone.

The significant features of the Tik-Tak:
Timer and Stopwatch which support pausing/resuming.
Tiny, user-friendly, without any installation.
User can setup custom time zones.
Saving and loading application settings to the tiktak files. Tik-Tak make association with that files.
Full screen mode.
Authority to configure most of the feather and application
100% freeware (for non-commercial use).
Download Link : Click Here3