Free Photo, Picture, Image Editing Software Paint.Net v3.5.8
Paint.NET is free picture and photo editing application for Windows platform. Generally, this software features an spontaneous and inventive user interface with support for layers, unlimited undo, sfx, and a variety of very helpful and powerful tools. Additionally, an active and growing online community provides friendly help, tutorials, and plugins.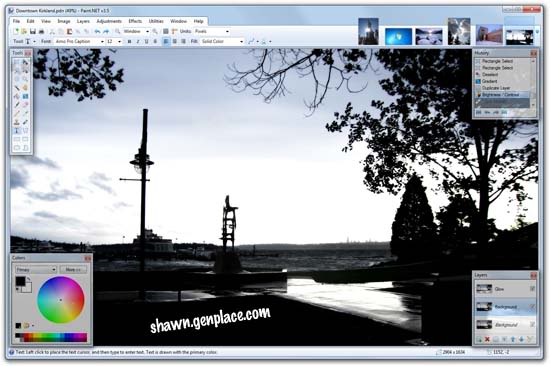 This software has been started development as an undergraduate college senior design project mentored and is currently being continued by some of the alumni that initially worked on it. In the beginning, the software intended as a free replacement for the Microsoft Paint software that comes with Windows, it has grown into a powerful yet simple image and photo editor tool.
Paint.NET 3.5.8
This update fixes some issues with the fault-tolerant save feature introduced in 3.5.7.
Fixed: Saving to a folder that has been moved or renamed will display an error instead of crashing (regression from 3.5.6)
Fixed: Saving to a Sharepoint site will now work (regression from 3.5.6)
Fixed: Saving to a file that is marked as read only will now give an error instead of crashing (regression from 3.5.6)
Fixed: General reliability and correctness improvements to fault-tolerant saving