Browsing articles tagged with "Images Archives - Shawn Tech Place"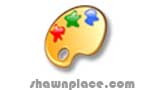 Convert raster images like PNGs, BMPs and JPEGs to scalable vector graphics (SVG) Vectorizer is a online tools website to help user to Convert raster images like PNGs, BMPs and JPEGs to scalable vector graphics (SVG). In short, Vectorization of raster images is done by converting pixel color into geometric objects. The File format are PNG, BMP, JPEG ( max file size: 1MByte ). After uploaded, you select color wizard (4 steps) or black and […]
Compression and Optimization Tips What is PNG? PNG stands for Portable Network Graphics. It is a bitmapped image format that employs lossless data compression. Due to the bad quality of GIF, PNG was created to improve and replace upon it. Advanced PNG Optimizer OptiPNG is certified open-source software that recompresses image files to a smaller size, without losing any information. In another words, it is a PNG optimizer. This program is able performs PNG integrity […]
The Volume and Size of 5MB memory storage in 1956
Macintosh Keyboard – 1984 Apple Extended Keyboard – 1990
First Generation of iPod – Oct 2001 Second Generation of ipod – June 2002
Windows Boot Screen – Windows 1.01 To Windows Vista 1985.11.20 Windows 1.01 1987.11.1 Windows 2.03
Every 14 February, across the world, chocolate, flowers, and presents are exchanged between loved ones, all in the name of St. Valentine. Since Valentine 2009 is coming soon and there are some cuties, lovely and romantic "Happy Valentine Day Wallpaper" for ya. Make your selection now. (Images resolution = 1024×768)
Strong in Color, is this the message that the producer trying to send to audience?