Powerful Burner for Mac – Free Now!
Mac Disc burner (Disco) – Free Now! Original Price $29.90
Disco, an application that allows users to burn optical media discs. In brief, this application includes utilities such as Discography (instantly search through tens of thousands of burned files), Spanning (divide multiple discs), Crossroads (assist every step of the process), powerful tool (seamless multi-session support), and smoke (boundaries of progress indication).



Requirements
– Mac OS X 10.4.3+
– A Mac with CD or DVD burner installed.
Register Key
Name: FREE DISCO
Code: DSCO-111-113-199-99
* Remark : Free upgrade until version 2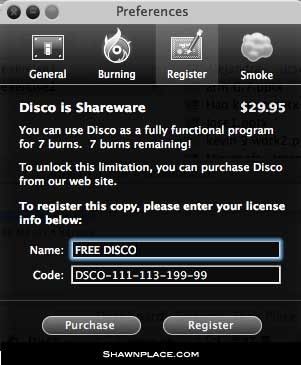 Official Download Link
Click Here To Download
About the Author:
ShawnLiv, the founder and editor of GenPlace Forum, ShawnLiv Dot Com, and Shawn's Tech Place. Learn more about him and follow him on Twitter at @shawnliv