I had been using AVG for several years and recently I have facing many error in my PC (Obviously that is my PC problem). Even though, I try to uninstall and reinstall but it still not working. Anywhere, now I had been trying ClamWin for few days and I don't see any problem yet. Moreover, it is a Open Source, which is copyright free and you can change the code if you can.
A brief introduction of ClamWin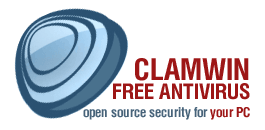 * High detection rates for viruses and spyware;
* Scanning Scheduler;
* Automatic downloads of regularly updated Virus Database.
* Standalone virus scanner and right-click menu integration to Microsoft Windows Explorer;
* Addin to Microsoft Outlook to remove virus-infected attachments automatically.
ClamWin available for Microsoft Windows 98/Me/2000/XP/2003 and Vista but not Linux.
If you want to try, you may Click Here to Download
This is the latest version of Clamwin Free Antivirus is 0.94.1
More information can be found at here