Free Internet Security Download COMODO 2013 V6
COMODO 2013 v6.0.260739.2674 released!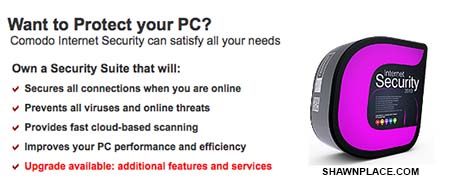 Yet another free Internet Security "Comodo". A multi-layered security application that help you to protect your computer as well as personal information. Generally, it combining antivirus protection, filtering firewall, advanced host intrusion prevention and automatic sandboxing of unknown files.
In short, the main features of Comodo Internet Security includes: Antivirus, Anti-Spyware, Anti-Rootkit, Bot protection, Defense+ (Protects critical system files and blocks malware before it installs), Auto Sandbox Technology™ (Runs unknown files in an isolated environment where they can cause no damage) and Memory Firewall (against sophisticated buffer overflow attacks).
System Requirements:
Windows 7 / Vista / XP SP2/ Windows 8, 152 MB RAM / 400 MB space
More information available at their official forum : http://forums.comodo.com/news-announcements-feedback-cis/comodo-internet-security-2013-v-602607392674-released-t89185.0.html

Download Comodo Firewall for Windows
http://eu1.download.comodo.com/cis/download/installs/1000/standalone/cfw_installer_x86.exe
Download Comodo Antivirus for Windows
http://download.comodo.com/cis/download/installs/1000/standalone/cav_installer_x86.exe
http://us3.download.comodo.com/cis/download/installs/1000/standalone/cav_installer_x86.exe
Download Comodo Internet Security for Windows
http://eu1.download.comodo.com/cis/download/installs/1000/standalone/cispremium_installer_x86.exe
http://ftp.isu.edu.tw/pub/Windows/softking/soft/en/c/cispremium_installer_x86.exe
About the Author:
ShawnLiv, the founder and editor of GenPlace Forum, ShawnLiv Dot Com, and Shawn's Tech Place. Learn more about him and follow him on Twitter at @shawnliv