Downloading Tool: FreeRapid Downloader
FreeRapid is a simple Java downloader that supports downloading from Rapidshare and other file-sharing services. Beside, FreeRapid also support Multilanguage interface such as Czech, Brazilian portuguese, Danish, English, French, German, Hungarian, Chinese, Indonesian, Italian, Japanese, Polish, Russian, Slovak, Spanish, Turkish, Ukrainian.
How to use it? Pretty simple and easy to use, just copy and paste your download links from a browser to FreeRapid.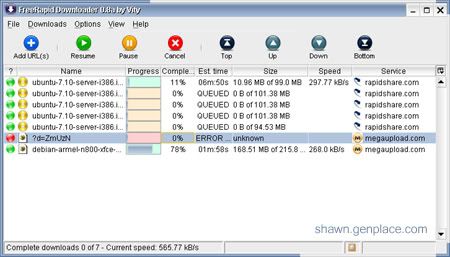 The Main Features
• support for concurrent downloading from multiple services
• downloading using proxy list
• download history
• smart clipboard monitoring
• automatic checking for file's existence on server
• auto shutdown options
• automatic plugins updates
• simple CAPTCHA recognition
• support MS Windows, Linux and MacOS
Currently supported services are:
Rapidshare.com (+ premium account)
MegaUpload.com
Megarotic.com and Sexuploader.com
NetLoad.in
MediaFire.com
FileFactory.com
Filebase.to
Uploaded.to
DepositFiles.com
Share-online.biz
Egoshare.com
Easy-share.com
Letibit.net
XtraUpload.de
Shareator.com
Kewlshare.com
SaveFile.com

Ziddu.com
4shared.com
Load.to
Iskladka.cz
HellShare.com
QuickShare.cz
Uloz.to
FlyShare.cz
Edisk.cz
Upnito.sk
CobraShare.sk
2Shared.com
Usercash.com (crypter)
Tinyurl.com (crypter)
Linkbucks.com (crypter)
Radikal.ru (crypter)
Official Websites
http://Wordrider.net/freerapid/

Official Websites Download page
http://Wordrider.net/freerapid/download.html

FreeRapid Download Links:
Zip file for all operating systems

To unzip file kindly refer to free unzip program

or
About the Author:
ShawnLiv, the founder and editor of GenPlace Forum, ShawnLiv Dot Com, and Shawn's Tech Place. Learn more about him and follow him on Twitter at @shawnliv