Download Your Free AVG Antivirus 2011 Now!
AVG Anti-Virus Free Edition 2011 :Remarkable protection. Absolutely free.
One of the most downloadable free security software AVG had been released their latest version 10.0.1120. In brief, it provides the basic protection for online activity such as web browsing, searching and social networking.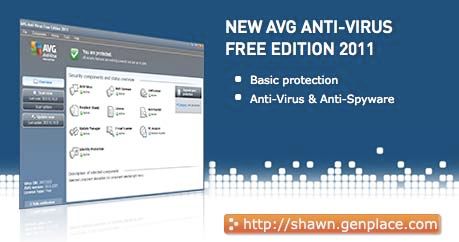 In Summary, the main features of AVG Anti-Virus Free Edition 2011 include:
• Surf and search with confidence AVG LinkScanner's® real-time protection

• Stay protected on social networks with AVG Social Networking Protection

• Enjoy a faster running PC AVG Smart Scanning works while you're away and runs in low-priority mode when you return

• Stay up-to-date with the latest threat information from the AVG Community Protection Network and AVG Protective Cloud Technology
Minimum system requirements :Intel Pentium 1.5 GHz or faster, 512 MB of RAM
Hard disk free space (for installation): 750 MB
Operational System : MS Windows XP,MS Windows XP Pro x64 Edition, MS Windows Vista, MS Windows Vista x64 Edition, MS Windows 7, MS Windows 7 x64 Edition
Web browser: Microsoft Internet Explorer and Mozilla Firefox
Languages :Multi-language
Download: Click Here
About the Author:
ShawnLiv, the founder and editor of GenPlace Forum, ShawnLiv Dot Com, and Shawn's Tech Place. Learn more about him and follow him on Twitter at @shawnliv