Download Manager and Auto Folder Extractor for Mediafire
MediaFire Downloader & Folder Extractor v3
Mediafire.com, one of the top free file hosting website. Generally, the download speed is high and user-friendly. In particular, no strict policy for free user to download. Straight to the point, Mediafire Folder Extractor and Downloader is a freeware to automate and accelerate downloads from mediafire. This tiny utility extract mediafire download links from a mediafire folder link.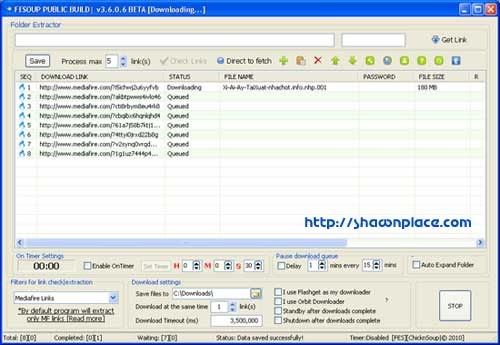 In addition this program re-generate mediafire direct link and send to IDM and supports clipboard link-grab. At this moment, it can extract links such as Rapidshare Links, Megaupload Links, Mediafire Links, Hotfile Links, Uploading Links and Ware.vn Links.
On the other hand, it is also a Image link-grab from clipboard for images types such as BMP, JPG, JPEF, PNG and Flv.
Platform : XP,Vista,7
Installation : Portable Version
Hot keys : CTRL + ALT + F6: Restore from Tray
Changes in v3.6.0.6 /21-01-2011
——————————–
* Fixed: Download();
* Fixed: Status clarification
* Fixed: ReLocation();
Instruction:
1. Download and Extract it (link below).
2. Open MF Downloader & Folder Extractor Version 3.6.0.6 Icon.
3. In INPUT Click Bar. Put Mediafire Folder share key.
4. Put the Password if needed.
5. Click on Get key!
6. When links appear click on Start Button!
【Download】:
About the Author:
ShawnLiv, the founder and editor of GenPlace Forum, ShawnLiv Dot Com, and Shawn's Tech Place. Learn more about him and follow him on Twitter at @shawnliv